Discover our innovative latex care products Vivishine, Viviclean and Vividress and find out why our products are so popular.
We are very proud that our name Vivishine stands for quality and reliability worldwide . We will continue to do everything we can to ensure that this remains the case in the future. You can find here all information about our products and also worth knowing about latex in general.

Glossy latex and unique feel
The beautiful shine of latex and also the unique feeling of wearing always fascinates people. But there are some things you should know about it to enjoy it from the beginning.
What should I think about if I want to try latex?
What is there to consider if I want to preserve latex for a long time?
Here you will find not only product offers, but also many tips from many years of experience on how to choose the right garment, how to dress, wash, care, store and shine latex.
If you have further questions or suggestions, please do not hesitate to contact us. And now have fun on our pages. Your Vivishine Team
Learn more about latex and exciting news: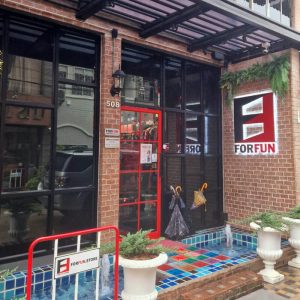 It's raining cats and dogs when I arrive at the ForFun showroom in Bangkok City. After taking off my rain cape and entering the shop, I not only look at the costumes and accessories from pet play heaven, but am fascinated by multi-faceted colours and stunning styles on hangers, shelves and cabinets. This is paradise for every latex lover.
Buy Latex Care Vivishine:
ViviShine has been convincing customers worldwide since 2005. We are proud that so many distributors sell our products: