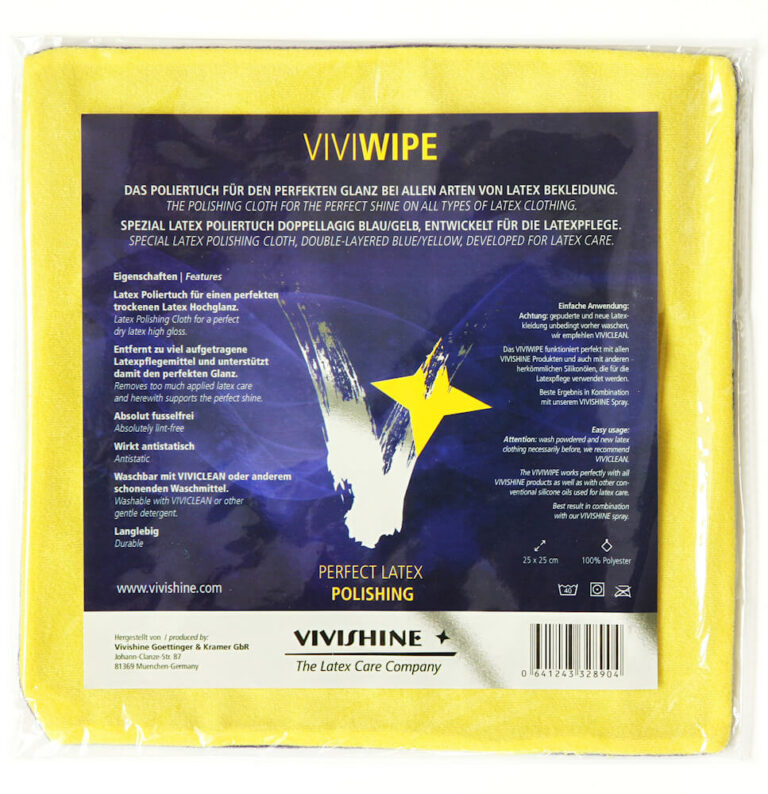 100% polyester
approx. 600g/sqm
25 x 25cm
double layer blue/yellow
Polish to a high gloss
VIVIWIPE
The polishing cloth for the perfect high gloss for all types of latex clothing.
The perfect combination to the VIVISHINEspray: Its special viscosity harmonizes perfectly with this polishing cloth. Already directly after the polishing process the latex clothing is no longer oily. All that remains is the perfect high gloss that is neither sticky nor greasy. This latex high gloss lasts for hours and has an antistatic effect.
This special polishing cloth is completely different from conventional microfiber or polishing cloths, which are usually unsuitable for latex polishing because they fluff, are too absorbent or have difficulty gliding over latex. Instead of linting, VIVIWIPE picks up small particles and leaves a clean surface.
VIVIWIPE not only provides magical dry high gloss, it is also much less expensive than comparable products from other manufacturers.
It is strongly recommended to wash powdered and new latex clothing beforehand. For this purpose we recommend VIVICLEAN.
Even a small amount of VIVISHINEspray is sufficient to bring the latex surface to a high gloss with the VIVIWIPE.
The VIVIWIPE works with all VIVISHINE products and also with other conventional silicone oils used for latex care.
Best result in combination with our VIVISHINEspray.
Latex polishing cloth for a perfect dry latex high gloss.
Special latex polishing cloth double layer blue/yellow, developed for latex care with finest fiber structure.
Removes too much applied latex care products and thus supports the perfect shine without streaks.
Absolutely lint free
Has an antistatic effect and shines for many hours
Washable with VIVICLEAN or other gentle detergent
Durable and yet inexpensive
Ideal size that fits well in the hand
Over 100 stores sell Vivishine latex care products worldwide.