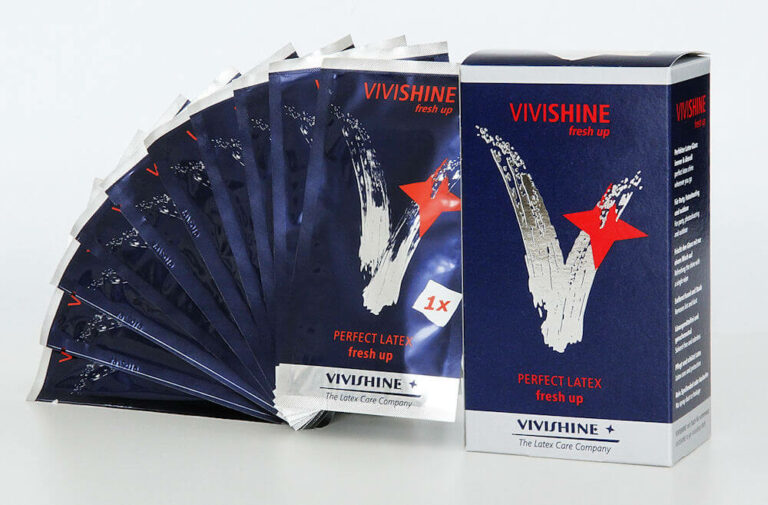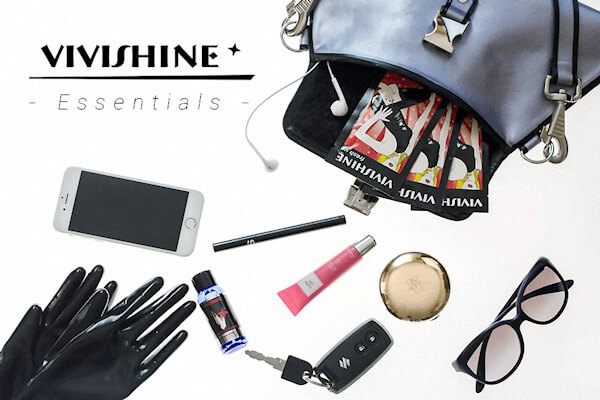 Polidimethylsiloxane, Pectins, Sontara Cloth
7ml
Perfect shine always and everywhere
VIVISHINE
Fresh-up
At parties after taking off the wardrobe, at shoots and outdoor – freshens up the shine of latex clothing with a wipe.
VIVISHINEfresh up is unique and only available from us. The idea was born out of practical experience. Latex polished to a high shine tends to attract lint or become somewhat dull when sitting or under a coat. The personal and smallest polishing station in the world provides the remedy: VIVISHINEfresh up optimizes the latex shine with one wipe.
In the package are ten airtight single wipes, soaked in VIVISHINE and ready for use with a handle. The ideal and practical addition for parties, shoots or outdoor. The soaked cloth in the single pack does not leak and does not produce any spray.
Simply tear open the top of the single pack, remove the soaked cloth and unfold. Then wipe directly and without pressure over the areas to be repolished. The cloth picks up any lint and wets the latex surface with a fine film for beautiful shine.
In many cases, one VIVISHINEfresh up wipe is enough for two people or multiple applications during an event. To do this, simply fold the cloth back up and place it back in the tear-open package. Its absorbency prevents liquid from leaking.
Over 100 stores sell Vivishine latex care products worldwide.