Paradise for latex lovers
It's raining cats and dogs when I arrive at the ForFun showroom in Bangkok City. After taking off my rain cape and entering the shop, I not only look at the costumes and accessories from pet play heaven, but am fascinated by multi-faceted colours and stunning styles on hangers, shelves and cabinets. This is paradise for any latex lover. Especially because the owner Mr. S not only sells, but also employs artists to create these beautiful prototypes and customise everything for their fans' needs.
ForFun is actually a programme and not just a name and its customers more than just customers. They are the soul of their items, while Mr. S has put his heart and soul into producing an entire rubber world since 2009: a showroom, four designer studios, an online shop and new projects in the pipeline.
In November 2022, a café will open across the street for more social events and a boarding house next door. Besides spreading joy, one of his goals is to bring the local community together.
I browse through different clothes before trying on several pieces in a changing room. Unfortunately, the nicest pieces don't fit me, but my time is too short for a proper fitting.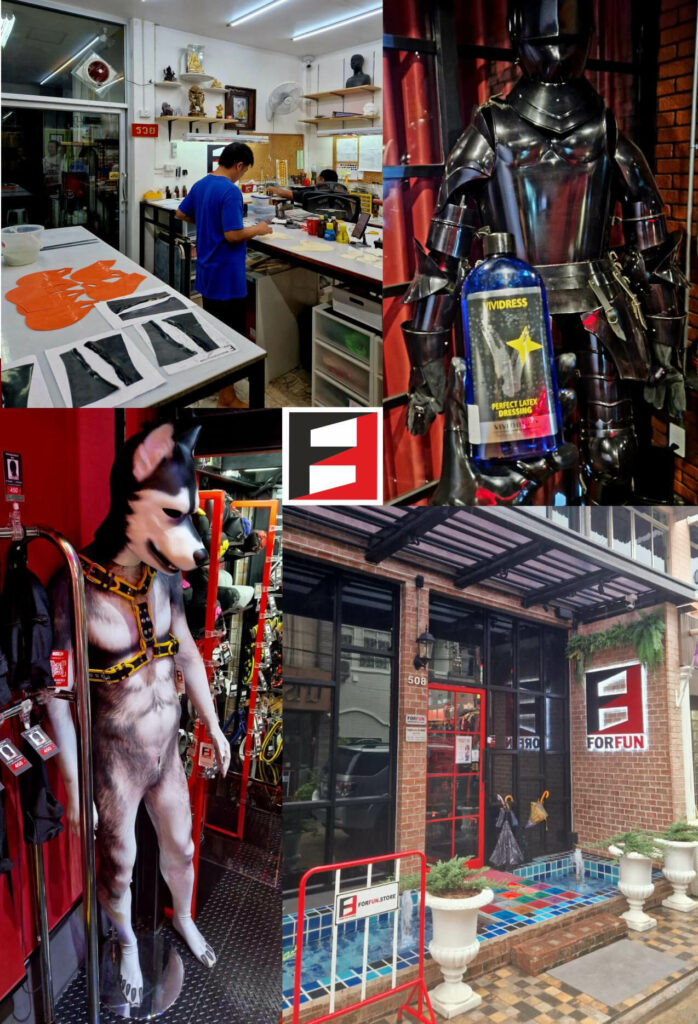 I'm more curious to take a look inside the studios where the magic happens. Pieces are cut on large tables while the cat called Boss likes to walk on them and accidentally kick down a spool. There are hundreds of rolls of material, boxes for buttons and more in stock, all waiting to be assembled into unique creations. The atmosphere is calm, people are working intently and I can feel for myself how proud Mr S must be when I see what he has achieved.
Back in the shop, Mr. S presents a souvenir for Vivishine: a sign in Thai letters meaning wealth, which will find a nice place in Munich and reminds us of Mr. S and his philosophy – not only to create customers but fans, to create joy principle.