Snow White, welcome to our interview.
Introduce yourself briefly:
Hello dear ones.
I am Snow White, 28 years old and come from the beautiful Spessart. My birthplace is Lohr am Main, the official Snow White town. That's where my model name comes from. I am about 1.63m short and besides my job as an auto parts saleswoman I like to fashion as a hobby.
You are the new cover girl at VIVISHINE. Were you happy about it and how did you come across VIVISHINE?
Of course, I was excited to be the new cover girl for Vivishine. It is a great honor for me, since I myself also work with the products frequently.
How did you get into modeling in general?
I got into modeling through Corona. I have been wearing latex for years, but during Corona I could not take out my beautiful latex dresses. There were no events, parties or fairs. So I've been looking for a reason to get back into my clothes for a change. Ulli Martin – the former owner of Latex Fashion Design Wiesbaden – then took product pictures with me a few times, I created an Instagram account and Snow White was born.
Do you work exclusively with latex outfits and what do you like most about latex and how can you describe the feeling with latex and what makes the difference between latex and other materials like leather or PVC?
I wear latex exclusively. I love the material not only because I think I look pretty in it, but also because of how it feels on my skin. So I'm not a fan of leather, PVC or anything like that. It doesn't look as high quality and the feeling on the skin, which I like so much as a fetishist, is just missing.
Do you feel "different/special" when you wear latex and if so how?
Yes, I feel different when I wear latex. I feel more confident, stronger and more beautiful. I love the looks on the street, people who stop to look at me or approach me to compliment me.
Do you wear latex on normal days, like to work, home, shopping or sports?
In everyday life I hardly get to wear latex. Unfortunately. My job in auto parts wholesale doesn't allow for that and I feel it's my little secret. I wouldn't feel comfortable with all my male colleagues seeing me in the material. A professional approach at work is very important to me. On weekends I like to slip into a latex outfit when it comes up. Also because my partner enjoys the sight. But I manage to do that far too rarely at the moment.
Could you imagine a life only with latex outfits, 24/7?
No, I could not imagine a life 24/7 in latex. In winter it's too cold for me outside and in summer when it's over 30 degrees it's too warm. There is a time for everything – even for wearing latex. But this way I enjoy the special moments when I have a rubber outfit on all the more.
The material is very expensive, where do your many outfits come from?
Yes, latex is unfortunately very expensive. Therefore, each purchase wants to be well considered. I try to buy my clothes exclusively in Europe and pay attention to good quality. In return, my things last a long time and I have a lot of fun with them. I always save up a few months for a new piece of clothing, but that's not a bad thing. So I appreciate every part very much.
Do you have a favorite outfit?
Of course, I have outfits that I prefer and wear more often than others. But I could not commit to ONE favorite outfit. I simply have too many beautiful things for that already.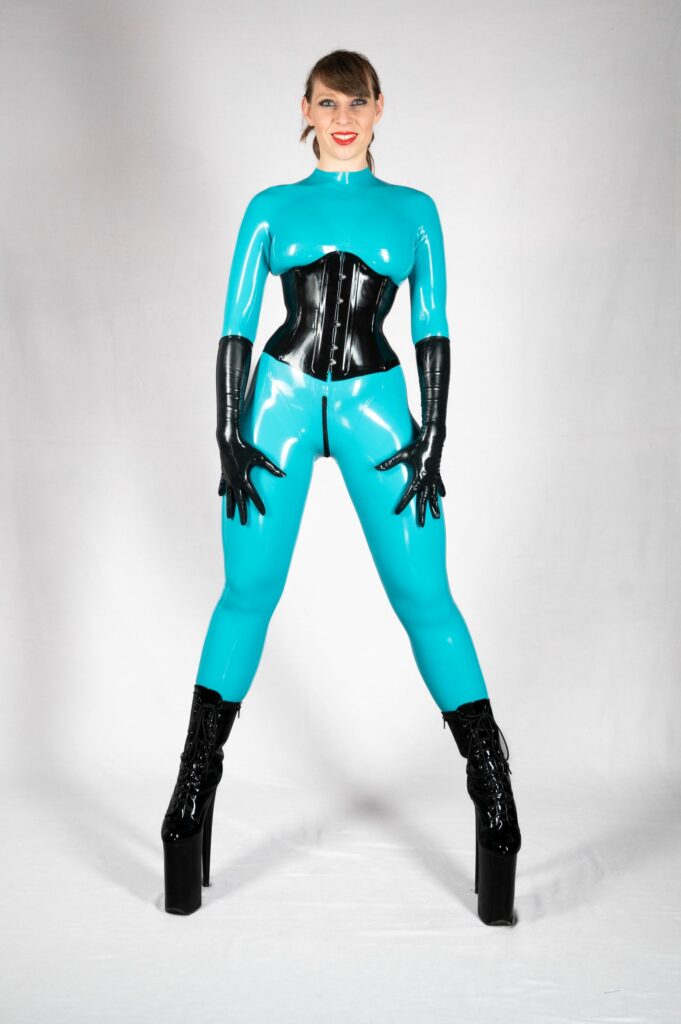 What would you recommend to a "beginner" as a first latex outfit and why?
For a beginner, I would recommend a small piece, such as underwear, a top, or a skirt. It is sometimes quite exhausting to get into a catsuit, especially if it doesn't fit properly, you aren't oiled enough, or you simply don't have any experience yet. Therefore, something with less bearing surface is better for the entry into latex life. Many people also have to get used to the fact that you sweat under latex.
Does latex need special care?
Latex is a special material and of course needs special care. After wearing them, I wash them out with water and Viviclean. After that I wash it again with clear water. Then Vivishine goes into the clear water and after that I let the things dry well. Stow away protected from light and you're done. However, if you don't want to "vivishine" the clothes, you can powder them, but please don't use baby powder.
Isn't the material particularly sensitive and how do you protect it?
The material is more delicate than a regular pair of jeans, but it can definitely take a beating. Latex stretches and does not restrict movement. It also doesn't matter how cold or warm it is outside. You should only be careful not to combine light latex with the wrong materials, otherwise it can discolor and, of course, pay attention to proper care, like that of Vivishine.
Can you imagine continuing to model for VIVISHINE and be an influencer?
I am not an influencer in the traditional sense. I don't promote products for money, I promote what I like and what I stand behind. I have tested the products of Vivishine extensively, use them with pleasure and the people behind the brand are insanely sympathetic to me. So I will be happy to continue modeling for Vivishine if desired and I am happy about the collaboration.
Thank you so much for giving us and our readers a little glimpse into your latex life. We wish you all the best for your future and many more beautiful and successful projects.
I wish you a brilliant day.
Many greetings – Snow White